Description
Next Level Racing F-GT ELITE LITE FRONT & SIDE MOUNT EDITION
Build your own Elite Journey with the best value all-in-one Formula, GT, Hybrid value aluminum profile cockpit, the Next Level Racing® F-GT Elite Lite cockpit. Designed and engineered by using the feedback from our community, virtual and real motorsport industry; the Next Level Racing® F-GT Elite Lite racing simulator cockpit* is a true all-in-one formula/GT/Hybrid position racing cockpit pushing the boundaries of what is expected of aluminum for functionality and affordability. Based on the popular design and globally used F-GT Elite cockpit, the F-GT Elite Lite sets the benchmark for aesthetics, functionality, and quality for an aluminum profile cockpit or what's commonly referred to as an "8020 racing simulator cockpit". While constructed to suit the mid-range category with a "4080" profile, through cutting-edge engineering and manufacturing, combined with unique components, fixtures, and reinforcements, the F-GT Elite Lite is the most rigid mid-range cockpit.
The Elite series of products are used globally by many leading esports teams such as Ferrari esports, Team Fordzilla, and Veloce to suit the highest level of competition and esports athletes. By using a variety of unique components and cutting-edge manufacturing, the F-GT Elite Lite offers a rigid and strong solution of all types of sim racing.
*Patent pending
LEADING FEATURES
ALL IN ONE COCKPIT WITH QUICK ADJUSTMENTS FOR ALL DRIVING POSITIONS INCLUDING TRUE FORMULA, GT, HYBRID, TRUCK, AND TANK
FRONT & SIDE MOUNT WITH 70 DEGREES OF ADJUSTABILITY FOR DIRECT DRIVE WHEELBASES
RIGID AND HIGHLY ADJUSTABLE MOUNTING SUPPORT INCLUDED FOR YOUR SEAT, WHEEL, AND PEDAL
PREMIUM BLACK ANODIZED ALUMINIUM PROFILE WITH PREMIUM CARBON STEEL POWDER-COATED COMPONENTS
PEDAL POSITION HEIGHT, ANGLE, AND DISTANCE ADJUSTABLE
PRE-MACHINED HOLES IN ALUMINIUM PROFILE FOR RIGIDITY AND EASE OF ASSEMBLY
COMPATIBLE AND EASY INSTALLATION WITH NEXT LEVEL RACING® MOTION PLATFORMS*
ALL THE EXTRAS INCLUDED SUCH AS NLR SEAT SLIDER SYSTEM, SEAT BRACKETS, HEIGHT ADJUSTABLE SHOCK ABSORPTION FEET, BUTTKICKER® GAMER ADAPTOR, AND CABLE MANAGEMENT CLIPS.
PREMIUM PACKAGING INCLUDING DOUBLE BOXING AND MOULDED FOAM FOR ALUMINIUM PROFILES AND PARTS
T-SLOT EXTRUDED ALUMINIUM ALLOWS COMPATIBILITY OF ACCESSORIES WITH OTHER COCKPIT BRANDS
FULLY ENCLOSED BASE FRAME FOR STRENGTH AND AESTHETICS
A TALLER ALUMINIUM PROFILE FOR WHEEL MOUNT UPRIGHTS ALLOWS FOR A WIDER RANGE OF DRIVING POSITIONS AND USERS
COMPATIBLE WITH ALL MAJOR BRANDS OF WHEELS AND PEDALS INCLUDING FANATEC, THRUSTMASTER, LOGITECH, SIMXPERIENCE, AND MANY MORE
BUILT FOR THE ELITE DIRECT-DRIVE RACER
Included in the F-GT Elite Lite Front & Side Mount Edition are Next Level Racing's bespoke Direct Drive mounting solution. Machine Folded and precision Laser Cut parts make the Next Level Racing F-GT Elite Lite Front & Side Mount Cockpit a premium option for racers that demand the ultimate in versatility and rigidity from their cockpit.
The 8mm thick Carbon Steel Side Mounts offer 70 degrees of tilt (40 degrees downward, 30 degrees upward), giving drivers the option to fine tune their Elite cockpit for the perfect driving position. NOTE: The F-GT Elite Lite Front & Side Mount Edition also comes with 6mm Carbon Steel (machine folded & laser cut) "WINGS" as well as the 6mm Front Mount Bracket Option.
– Fanatec dd1/dd2 podium direct drive
– Simucube 2 Pro /Simucube 2 Sport/Simucube 2 Ultimate
– Simagic Alpha/M10
– Mige 130 motors
– VRS Directforce Pro
– Kollmorgen akm 52-53-54 (OSW and Leo Bodnar Simsteering systems)
ALL-IN-ONE, MULTI-POSITION COCKPIT
Whilst providing complete rigidity and ultimate adjustability the F-GT Elite Lite cockpit offers true and comfortable Formula, GT, hybrid, truck, and tank driving positions with quick adjustments between positions making it a true one for all cockpits. The increased angle and range provided in the seat brackets, wheel, and pedal plate caters to users of all sizes and driving styles by giving more adjustability than ever before. The F-GT Elite Lite is suited for any global esports activation that demands the best from a cockpit that offers several racing positions
INNOVATIVE FLEX-FREE NLR SEAT SLIDER & BRACKET SYSTEM
The innovative Next Level Racing® Seat Sliding System has been designed and engineered to eliminate the issue of flex found in conventional seat sliders used in the simulation. The NLR ratchets are used to easily slide your seat back and forth to find the desired position for a flex-free racing experience.
The Next Level Racing® Seat Brackets are constructed from 5mm carbon steel to provide the rigidity required for high-end sim racers and the new design provides more adjustability than ever before to support multiple seating positions with 98 adjustment options. The optional Next Level Racing® Elite Sim Racing Seats are the recommended seat to use with the Elite range of cockpits as the seat has been designed and optimized for elite sim racers.
UNIVERSAL SLIDING PEDAL PLATES
The sliding pedal plates have been designed to provide easy and quick distance adjustments for pedals as well as compatibility with the continuously expanding pedal market. Equipped with 2 slotted 5mm carbon steel pedal plates with double precision folds, this setup ensures supreme rigidity but straightforward compatibility. The pedal tray area has been designed to offer more angle, height, and distance adjustments to accommodate for a wider range of driving positions. The laser-etched markings on the aluminum profile assist with making accurate adjustments.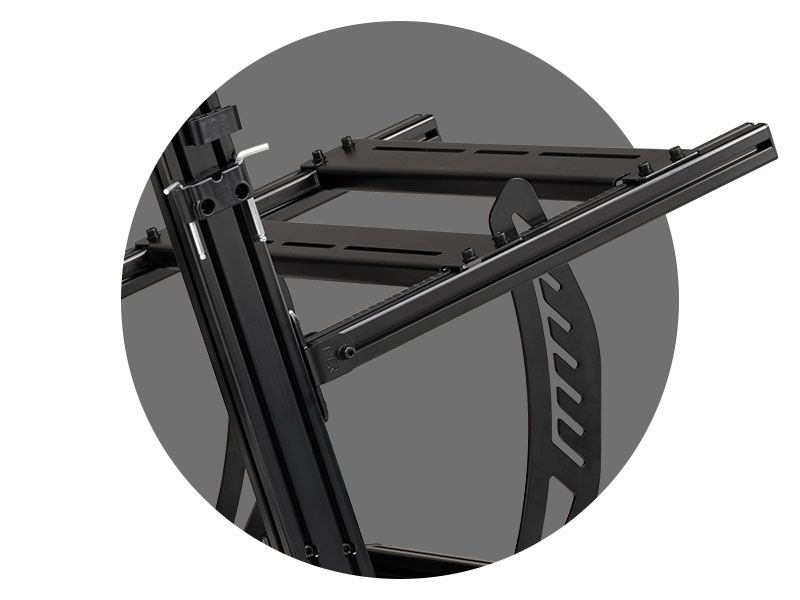 THE DESIGN SHOULD BE BEAUTIFUL & FUNCTIONAL
The F-GT Elite Lite cockpit provides a long list of unique custom-engineered components to provide users with the highest quality and performing product on the market. Rather than adapting industrial off-the-shelf components, we are pioneering how aluminum profile cockpits should be designed. No industrial square brackets are required, and profile pieces are pre-machined to allow for quicker, easier and stronger connections. We focused on the finer details like the black electroplated premium spring ball T-slot nuts and the custom NLR end caps to combine for improved functionality and user experience. The premium finish and materials, custom components, and market-leading design come together for a visual masterpiece.
GROW WITH THE ELITE LITE PRODUCTS
Start your Elite sim racing journey with the Elite Lite series. The Elite Lite range has been designed with the users in mind. Suited for users that like to have the flexibility of their ecosystem path, The F-GT Elite Lite provides a base structure that can grow with different accessories in the Elite range. As users grow in their sim racing journey, accessories like the Elite Shifter Add-on and Motion Adaptor Upgrade Kit can be added to the F-GT Elite Lite for an even more immersive experience.
NLR HEIGHT ADJUSTABLE SHOCK ABSORPTION FEET
Uneven floors should never spoil your simulation experience. We have kept this in mind when designing our height adjustment feet allowing independent adjustments for the height of each corner of your cockpit. The custom-designed feet are not only a major aesthetical improvement on typical industrial feet commonly used in the simulation market, but they also include TPE shock absorption plugs designed to absorb vibrations and provide grip on slippery surfaces.
EASE OF ASSEMBLY AND USE
By designing custom components and using advanced manufacturing for precision machined holes in the aluminum profile allows easier assembly and more rigid connection as the profile bolts together. The unique design seen throughout the Elite series means that the hassles of aligning fiddly corner brackets are a thing of the past. Combining the ease of assembly with the laser-etched line markings on the profile helps you to get racing quicker than any other aluminum cockpit before. Each piece is individually placed in our custom foam molded packaging to ensure the safety of the product while in transport and provide a seamless user experience from the time the packaging is opened.
ALL THE EXTRAS INCLUDED
The Next Level Racing® F-GT Elite Lite is compatible with the Next Level Racing® Motion Plus Platform. For compatibility with the Motion Platform V3 or Traction Plus Platform, Next Level Racing® Elite Motion Adaptor Upgrade Kit is needed.
Next Level Racing® Premium 5mm Carbon Steel Seat Brackets with 98 adjustment options and compatible with side mounting bucket seats
Next Level Racing® Flex Free Seat Slider system eliminating flex found in sim cockpit seat sliders
Pedal plate design provides sliding adjustability for quick distance adjustment
Buttkicker® Gamer adaptor
Next Level Racing® Custom Feet with height adjustable shock absorption rubber base
6 x Next Level Racing® Custom Cable Clips holding up to 4 larger cables or 8 smaller gauged cables
Premium custom black electroplated spring ball T-slot nuts
Laser engraved markings for ease of lining up and adjusting wheel and pedal positions
FEATURES
All in one cockpit with quick adjustments for all driving positions including true formula, GT, hybrid, truck, and tank
Front & Side Mount with 70 degrees of adjustability for Direct Drive wheelbases
Rigid and highly adjustable mounting support included for your seat, wheel, and pedal
Premium black anodized aluminum profile with premium carbon steel powder-coated components
Pedal position height, angle, and distance adjustable
Pre-machined holes in aluminum profile for rigidity and ease of assembly
Compatible and easy installation with Next Level Racing® Motion Platforms*
All the extras included an NLR seat slider system, seat brackets, height adjustable shock absorption feet, Buttkicker® gamer adaptor, and cable management clips.
Premium packaging including double boxing and molded foam for aluminum profiles and parts
T-slot extruded aluminum allows compatibility of accessories with other cockpit brands
Fully enclosed base frame for strength and aesthetics
A taller aluminum profile for wheel mount uprights allows for a wider range of driving positions and users
Compatible with all major brands of wheels and pedals including Fanatec, Thrustmaster, Logitech, Simxperience, and many more
WHAT'S IN THE BOX
Next Level Racing® F-GT Elite Lite Frame (80X40 Aluminium Base)
Seat brackets to install side mounting racing seat
Next Level Racing® Tool Holder with M6 & M8 Allen Key and spirit level
Next Level Racing® height adjustable shock absorption feet
6 x Next Level Racing® Cable Management Clips
Buttkicker® Gamer Adaptor
Bolts to hard mount your wheels and pedals
Next Level Racing® Custom End Caps
Magnetic spirit level
Color instruction booklet for quick and easy assembly
Digital assembly instructions and assembly videos are available here: http://bit.ly/nlr-instructions
SPECIFICATIONS
Supported Height: 120 -210 cm or 4ft – 6ft 9 inches
Supported Max Weight: 150 kg or 330 lbs
Product Dimensions: (L) 138 cm x (W) 69 cm or (H) 86cm (L 54.3 inches x W 27.1 inches x H 33 inches)
Box Dimensions: 126 cm (L) X 40 cm (W) X 27.5 cm (H) 49.6 inches(L) x 15.7 inches (W) x 10.8 inches(H)
Product Weight: 38kg or 84 lbs
Boxed Weight – GW: 42.2 kg or 93 lbs
Part Number – NLR-E033
COMPATIBLE NLR PRODUCTS
Next Level Racing® Motion Plus Platform
Next Level Racing® Elite Motion Adaptor Upgrade Kit
Next Level Racing® Elite Keyboard and Mouse Tray- Black Edition
Next Level Racing® Elite Tablet/Button Box Mount Add-on
Next Level Racing® Elite Direct Monitor Mount- Black Edition
Next Level Racing® Elite Premium DD Side and Front Mount Adaptor
Next Level Racing® Elite Freestanding Monitor Stands (Carbon Grey or Black Edition)
Next Level Racing® ES1 Elite Sim Racing Seat
Next Level Racing® ERS1 Elite Reclining Sim Racing Seat
Next Level Racing® ERS2 Elite Reclining Sim Racing Seat
Next Level Racing® F-GT Elite Keyboard & Mouse Tray Carbon Grey
Next Level Racing® Floor Mat
Next Level Racing® Elite DD Side and Front Mount Adapter (already included in F-GT Elite front and side mount edition)
The expansive ecosystem of elite accessories coming soon- For more product compatibility, check out nextlevelracing.com or reach out to support@nextlevelracing.com