Description
Heusinkveld – Sim Handbrake
The all new Heusinkveld Sim Handbrake is a versatile, pressure sensitive USB simulator handbrake using load cell technology. Using Heusinkveld elastomer springs, it has a firm and adjustable progressive feel with up to 22kg of force at the lever (120kg load cell). Complete freedom to create custom output curves with Heusinkveld SmartControl. Adjustable horizontal or vertical lever with fine-tune adjustment. Comes with an optional adapter plate with yaw adjustment for aluminium profiles.
"When in doubt, flat out."
When rallying or drifting, you want full control. The new Heusinkveld Sim Handbrake is a highly adjustable, pressure sensitive USB handbrake using load cell technology. A wide range of options to set your preferred mechanical feel, complete freedom to shape the output curve using Heusinkveld SmartControl. A versatile, high quality handbrake system.
Smart Controle
The Sim Handbrake comes with a powerful configuration tool allowing you to set up your handbrake in ways not previously possible: SmartControl. SmartControl allows for instant mapping of (non-linear) output curves, deadzone and handbrake force.
These adjustments can be made without having to recalibrate the handbrake (including iRacing). All settings can be saved into profiles, which can be loaded again in a few mouse clicks.
Mapping handbrake output curve
A key feature of SmartControl is the ability to set custom signal output map. Traditionally race simulator handbrake output has had a one-on-one sensitivity in relation to the handbrake input. SmartControl allows you to map non-linear output curves using 5 zones (six input parameters).
This can be useful if you want your handbrake to be very aggressive (for example for drifting or tarmac rallies). Alternatively, you can set the initial output to be less sensitive when you expect the wheels to lock up easy (for example on dirt surfaces).
The handbrake has a Curve Type pull-down menu with pre-defined output curve. You can also select the option to make a custom curve and manually set the desired handbrake output percentage for each zone. You have complete freedom to set your own shapes.
Deadzone and handbrake force adjustment
SmartControl offers quick and easy adjustment of the handbrake bottom deadzone. The effect of changing these adjustments can be seen visually and realtime. Also the required force to get 100% handbrake output in your simulator can be set in a few mouse clicks.
Profiles
There is support for an unlimited amount of profiles within SmartControl. Saving and loading a profile is done in a few mouse clicks. Because profile data is saved relative to your calibration values, it is possible to exchange handbrake profiles between Sim Handbrake owners.
Shared profiles with other SmartControl compatible products.
If you have other Heusinkveld products which use SmartControl, it is possible to create a single profile which includes multiple devices. This allows you to change handbrake and pedal settings in one go in just a few mouse clicks.
Calibration wizard
Your handbrake is pre-calibrated during assembly and can be used as a plug&play device. All adjustments in SmartControl can be made without having to recalibrate the handbrake.
In case you do need to recalibrate (for example after making certain mechanical adjustments to the handbrake), SmartControl has an easy to follow calibration wizard.
Mounting
There are multiple options to mount the Sim Handbrake to your simulator. The base itself can be mounted in both a horizontal or vertical position. Combined with the option to mount the lever horizontal or vertical you'll have plenty of options to find a suitable spot for the handbrake in your simulator.
The base of the handbrake itseld can be mounted in 2 ways. The first option is to use the 4 mounting holes on the base itself (2 on each side), which allow you to mount the handbrake to a flat surface. Make sure you have matching mounting holes in the flat surface to which you connect the handbrake base.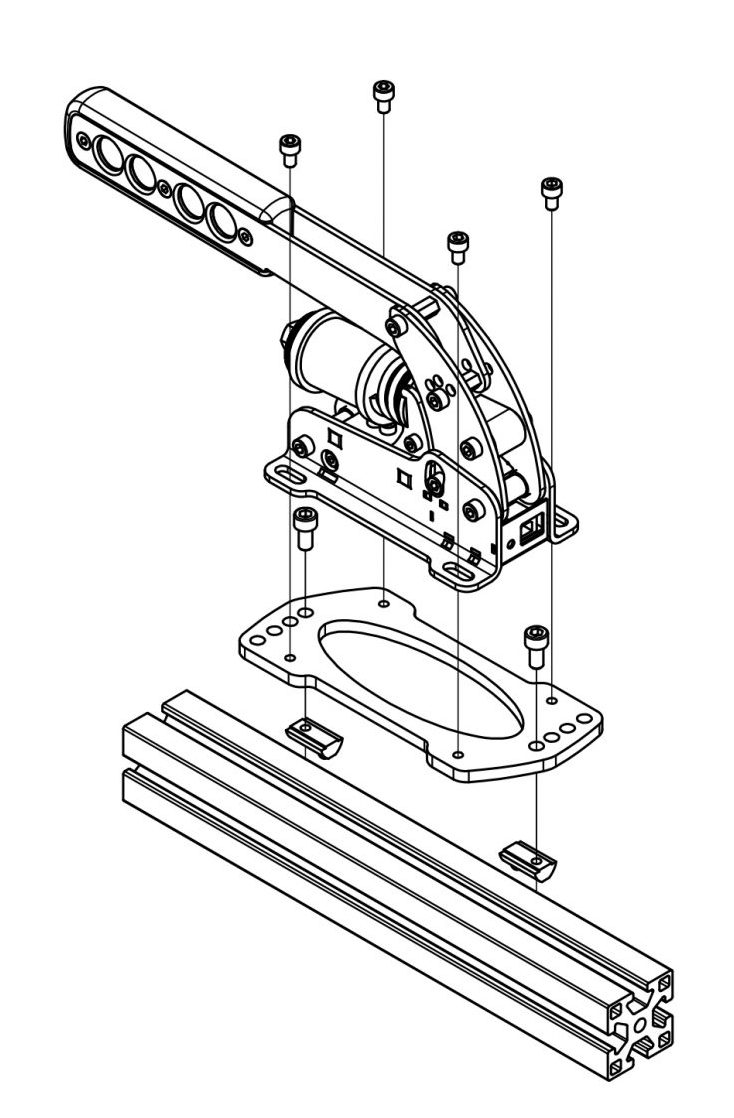 The second option is to use the included optional adapter plate. This allows you to easily mount the Sim Handbrake to aluminium profiles (aluminium profiles not included).
An added advantage of this adapter plate is that it allows you to easily adjust the yaw of the handbrake. This allows you offset the yaw of the handbrake base up to 22,5 degrees.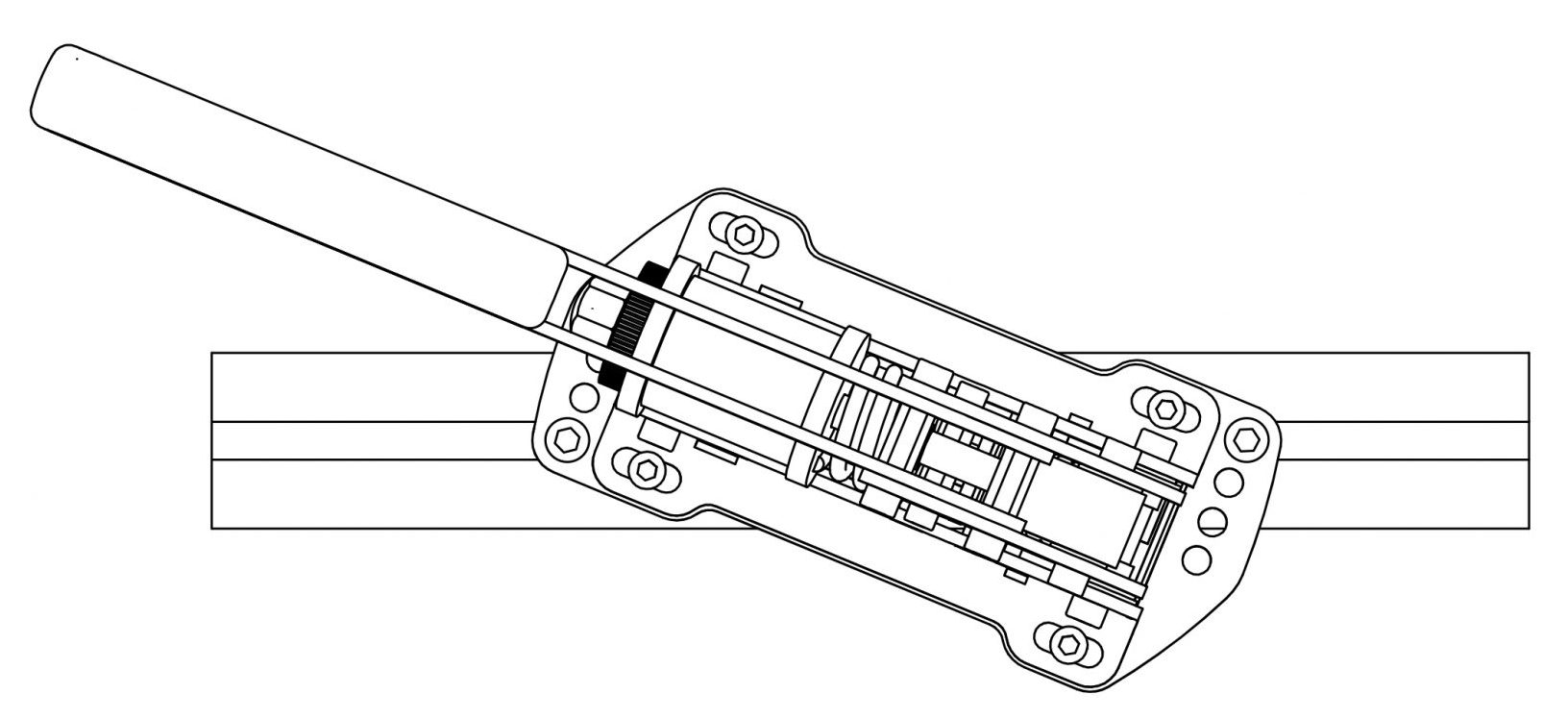 Using the yaw adjustment, you can rotate the base so you can optimize the direction into which you pull the lever. This can vastly improve the ergonomics and integration of the handbrake in your simulator.
Mounting materials
A selection of bolts and t-nuts is included with every Sim Handbrake. These should enable you to mount the handbrake to most aluminium profile based rigs using the adapter plate.
Because of the wide variety of rigs present in the market we cannot guarantee that the supplied materials will allow you to mount the Sim Handbrake to every rig. If you for example mount the handbrake to a (drilled) flat surface, you need to source the appropriate length bolts + nuts yourself in order to complete the installation.
You can find the product manual in the Support section of our website. A printed manualis included with every handbrake.
This product is compatible with the PC / Windows platform. It cannot be used on consoles such as Xbox or Playstation.
The handbrake is pre-calibrated (plug-and-play). If you want to use SmartControl to recalibrate or adjust certain handbrake settings, you need to run Windows 10.