Description
Heusinkveld Sim Pedals Ultimate Baseplate
Because the Sim Pedals Ultimate can withstand the forces experienced in real racing cars, a solid mounting on your simulator setup is an absolute must. If you don't want to mount the pedals directly to your rig, but want to place them on a baseplate first, we offer an optional rigid mounting solution. These base plates are designed to show absolutely no flex under load, while retaining flexibility when it comes to positioning individual pedals.
Because the Sim Pedals Ultimate can handle up to 136 kg of force, standard rigs often exhibit excessive bending under these loads. This base plate helps to create a sturdy mounting platform for your Sim Pedals Ultimate (note that the Sim Pedals Sprint has its own base plate).
The base plate mounting consists of several elements: the base plate on which you mount the pedals, as well as two brackets that create ground clearance for the pedal bolts and nuts and provide mounting space for the pedal controller. The base plate element is 10 mm thick and will not bend under maximum load.
Depending on your rig, you have the option of using the straight / parallel brackets or corner brackets. Both types of brackets are supplied with every base plate. The angled brackets are specifically designed for rigs that come with a patented pedal mounting plate that leans toward the seat.
Our angled brackets tilt the Sim Pedals Ultimate Baseplate by 15 degrees. This compensates for the standard lean angle of your rig, creating a horizontal mounting platform for your Sim pedals. If your rig has a sloped pedal deck, this will also increase the position of the pedals, improve ergonomics and result in a more realistic riding position with the pedal box and saddle in a more horizontal position to each other. The images show both types of stirrups, as well as a diagram showing different seating positions and the correct stirrup type.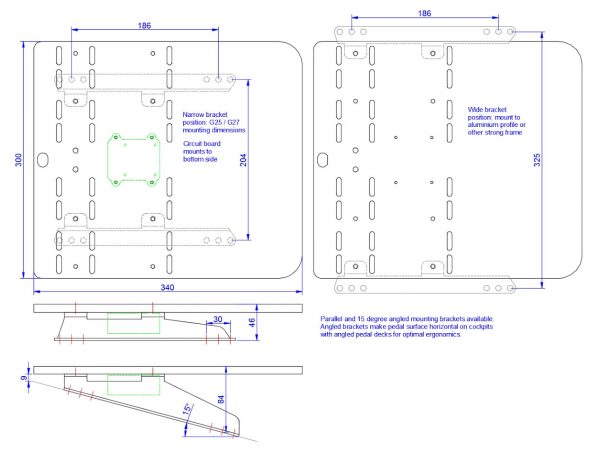 Both sets of brackets are compatible with G25 / G27 mounting holes, making them easy to install on many available simulator rigs. Alternatively, the brackets can also be mounted wider on the side of the base plate.
Each baseplate comes with a set of bolts and nuts to attach the pedals to the baseplate and mount the baseplate on your rig. In addition to mounting holes for your pedals, each baseplate also has slots to place the Sim Pedals USB controller.
Other information!
The Sim Pedals Ultimate Baseplate is suitable for our Sim Pedals Ultimate. It can also be used for the (discontinued) Sim Pedals Pro.
The Sim Pedals Ultimate Baseplate is NOT compatible with the Sim Pedals Sprint or Sim Pedals Racecentre. For the Sim Pedals Sprint baseplate