Description
Heusinkveld Ultimate+ Throttle and Brake Pedal Set (Load-Cell)
Enhance your simulator experience. Heusinkveld presents some of the highest quality, most adjustable, and most realistic feeling pedals on the market: Heusinkveld Sim Pedals Ultimate+. Trusted by world-class GT, single-seater, and Esports drivers, this high-end pedal set can be used in the most demanding environments. Capable of simulating pedal loads as high as in real GT and F1 cars.
Load-Cell measure the throttle and clutch position and brake pressure. Unlike rotary potentiometer designs, load cells provide truly linear output in relation to your pedal input. Their accuracy and durability are unmatched as they do not wear out over time.
Custom-developed 12-bit USB electronics ensure that each pedal responds instantly and accurately in your favorite simulator software. The displacement is adjustable from 10 ° to 20 ° on the accelerator and from 14 ° to 24 ° on the clutch. All end stops are "soft" for quality and neighbor-friendly sound and feel.
Designed with CAD and FEA, all structural parts are CNC precision laser-cut stainless steel with a glass bead blasted finish. The pedals are strong, stiff, compact, and durable. Mathematical models were made to calculate pedal travel and operation force, predicting with great accuracy how each pedal feels in every possible configuration.
Design tolerances have been optimized in order to have a minimal amount of play on every assembly. All key pivot points have slide bearings and have gone through automated durability testing to guarantee their functionality after a million duty cycles.
The custom-made brake elastomers provide a realistic progressive feel and retain their as-new characteristics even after thousands of races.
Hydraulic damping
The bespoke hydraulic dampers of the Sim Pedals Ultimate are ultra-reliable and do not require periodic maintenance. Even in the unlikely case of a failure, all hydraulic dampers can easily be removed while the pedal still retains its basic functionality as the pedal sensors are separated from the hydraulic circuit.
Sensors & output
The Sim Pedals Ultimate+ load cell assemblies provide a true linear input measurement of throttle and clutch position and brake force. Their accuracy and durability are unmatched as they do not wear over time. Heusinkveld proprietary electronics provide a full-range 12bit output for each pedal. Custom output curves can be freely configured and stored into profiles using the Heusinkveld SmartControl software.
Throttle
Smooth, accurate, and greatly adjustable, the throttle pedal gives you excellent control with exactly the travel, spring preload, and resistance you prefer.
The throttle features a 1-way hydraulic damper that resists speed at the ingoing stroke. This helps with smoothing the throttle application and is also used on many real cars for this purpose. The amount of damping can be adjusted.
A load cell provides a true linear input measurement of the pedal position. Custom non-linear output curves can freely be configured using Heusinkveld SmartControl software.
Brake
The brake features a realistic dual-stage brake system with a 200kg load cell, capable of handling actual pedal forces up to 140kg (measured at the pedal footplate). The adjustable coil spring simulates the initial pad-to-disc gap. The main brake springs are all new custom made Heusinkveld injection molded thermoset elastomers.
These proprietary elastomers are smooth and responsive and provide unprecedented progressive brake resistance (concave force curve) just as you would have in a real race car. On the ongoing and outgoing stroke, they have a firm bump and rebound characteristics.
Automated testing shows these elastomers have zero performance degradation even after one million duty cycles. You can choose from a total of 9 possible resistance settings, allowing you set the pedal from very soft to extremely stiff.
The brake features a 2-way hydraulic damper. This damping resists speed at the ingoing and outgoing stroke just as experienced in actual brake assemblies. The amount of damping is adjustable
Electronics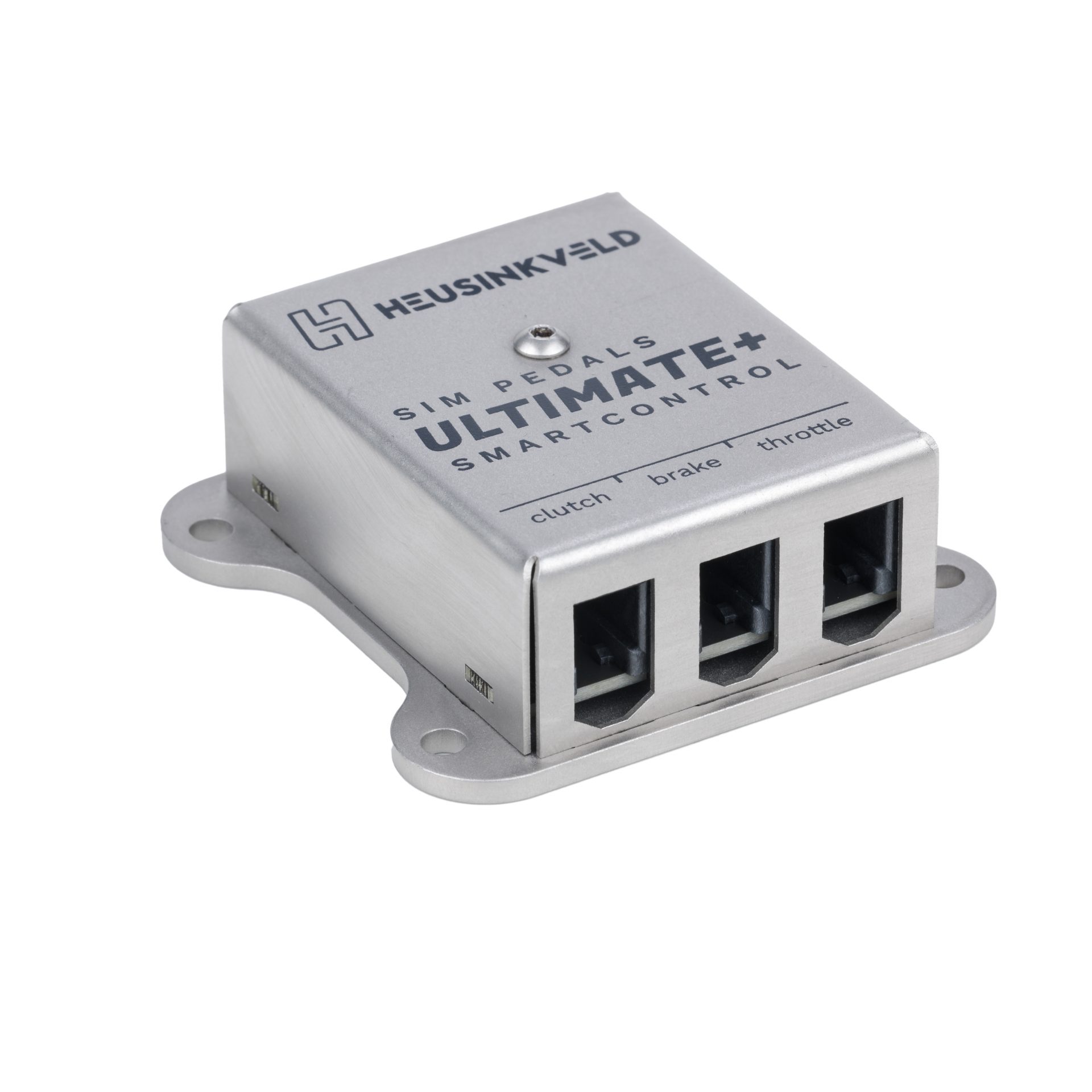 Heusinkveld Sim Pedals Ultimate+ uses a custom-made 12-bit USB controller, which works with Heusinkveld SmartControl software. After calibration every single pedal provides an output signal using the full 12-bit range, providing instant and accurate output to your favorite simulator software.
The controller enclosure is made of steel and is equipped with 4 mounting holes for easy mounting to your simulator. It can also be mounted to the underside of the optional Sim Pedals Ultimate+ Baseplate.
The pedals have passed full EMC compliance testing, guaranteeing a stable output signal regardless of other electronic components used in your simulator.