Description
SPARCO EVO QRT X Race Seat – Black For OFF-ROAD
BY THE EXPERIENCE AT THE DAKAR, SPARCO PRESENTS THE BRAND NEW "EVO QRT X" SEAT, WATER-REPELLENT AND DESIGNED FOR OFF-ROAD.
Like every year, Sparco accompanies the riders in the most dreamed and extreme race ever: the Dakar. The first stage of the W2RC which, for over 45 years, has been the stage for Sparco's innovations, this year will also be where the approved Sparco EVO QRT X seat will be presented.
Designed to complete the riders' equipment for the Dakar, the Sparco EVO QRT X seat combines research for the best ergonomics and rider comfort in the race, with the maintenance and management needs of approved technical equipment in extreme conditions.
Tested on board the open vehicles of the main car manufacturers in the sector, it completes the approved set-up of side-by-side vehicles and OFF ROAD vehicles in general.

The seat consists of an ultralight fiberglass shell, produced with Sparco's QRT (Quick Resin Technology) Construction Technology, which was developed in Italy thanks to the cooperation between the R&D Composites and Racing Equipment offices and was carried out in the years with a view to optimizing raw materials. In fact, the process allows a weight reduction of 45% (compared to traditional production methods) while maintaining very high safety standards.
The upholstery, in innovative water-repellent fabric designed explicitly for OFF-ROAD seats, guarantees protection in the event of rain and greater ease of cleaning and maintenance after the race, keeping the cushions sheltered from dampness. Finally, the comfort of the drivers both in the official races and in excursions for passion is also guaranteed by the presence of FIA-approved ergonomic memory foam cushions. Available in 2 sizes allows to mitigate the consequences of the roughness of the terrain as well as accommodate the seat of the largest number of pilots.
The EVO QRT X seat can also be customized according to the rider's physical specifications according to Sparco guidelines.
In fact, to counteract the effect of the roughness of the ground and according to the rider's needs, changes can be made to the back and lumbar support padding designed to absorb shock and vibrations. This obviously combined with the possibility of personalizing the seats with the team and driver logos.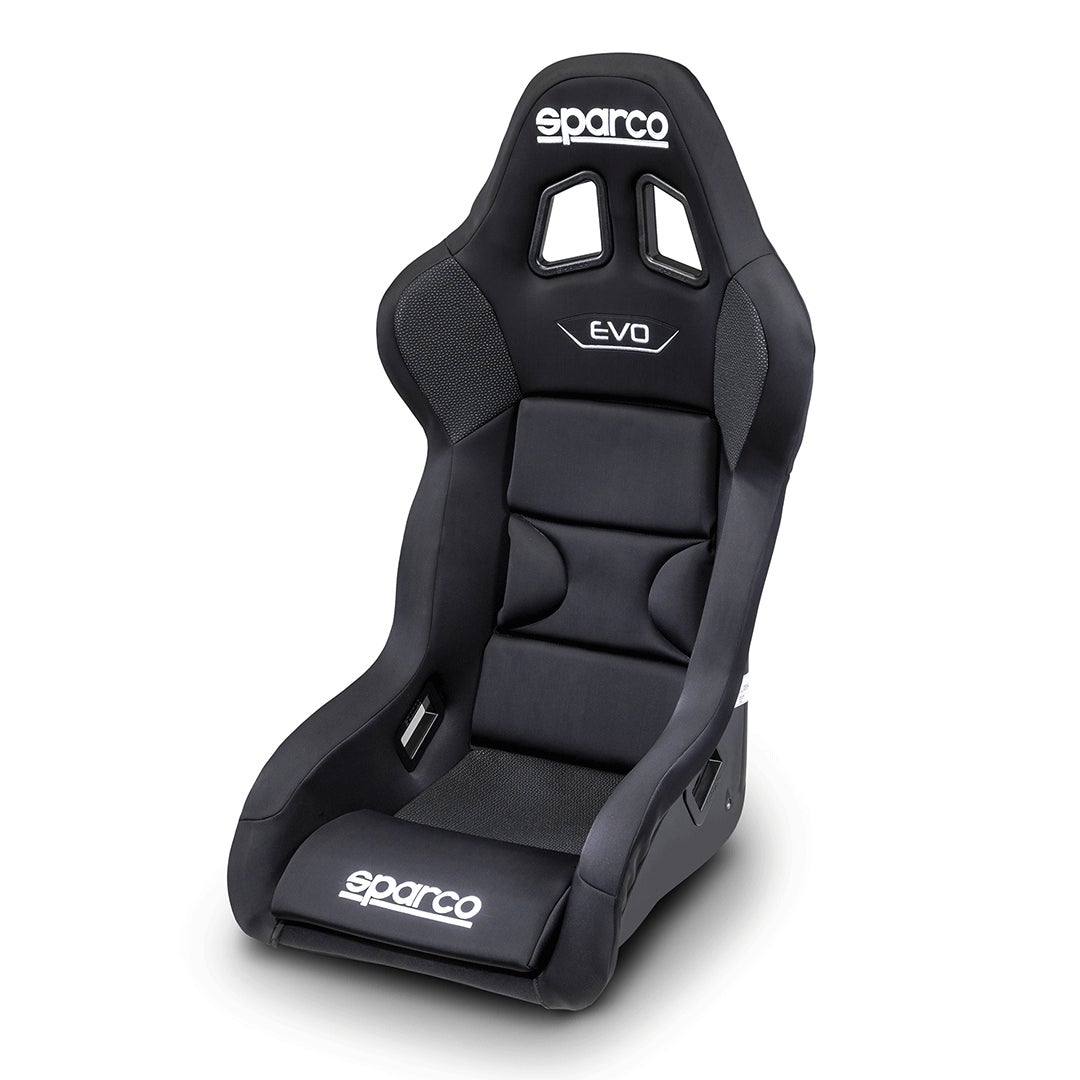 HOMOLOGATION: FIA 8855-1999
FRAME MATERIAL: SPARCO QRT Constructive Technology
WEIGHT (gr) FRAME: 5000/  SEAT: 7300
FABRIC: WATER-REPELLENT
MODEL DETAILS: Cushion leg rest and seat can be partitioned; fixing side attachments from M8 with wheelbase to 290mm.
The Sparco EVO QRT X seat was created by Sparco R&D to meet the needs of drivers engaged in off-road racing. The seat consists of a fiberglass frame produced with Sparco's QRT Constructive Technology and its upholstery made with innovative water-repellent fabric designed specifically for Off-Road seats. The characteristics of the water-repellent fabric also make it easy to clean the seat at the end of the race.
The production is Made in Italy.